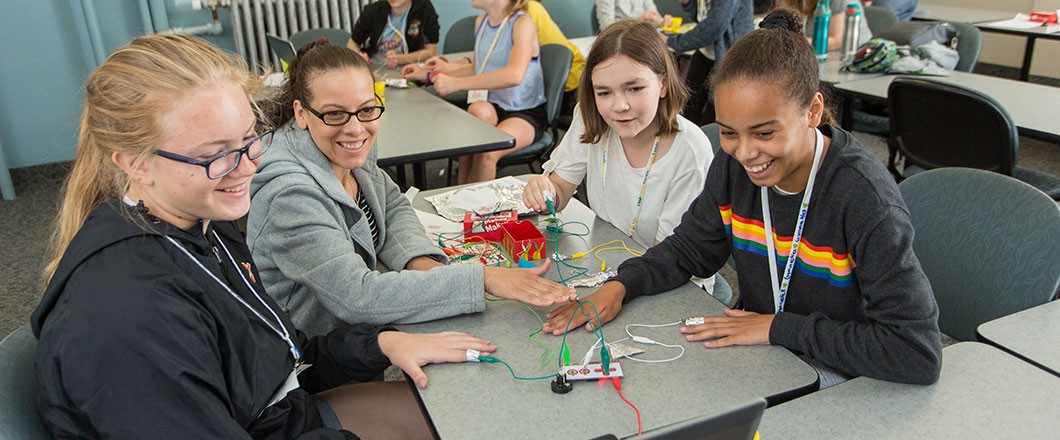 Partners and Sponsors
With the critical support of program partners and sponsors, Girl Scouts prepares girls to practice a lifetime of leadership, with access to new skills and experiences that develop the courage, confidence, and character they'll need to tackle whatever comes their way.
Partnership and Sponsorship Opportunites
Your company or organization can become a Girl Scouts River Valleys partner or sponsor by supporting our mission with financial contributions, program partnership, gifts in-kind, or volunteer time.
Sponsorship
Connect your organization to the Girl Scout movement and support Girl Scouts River Valleys as one of the nationally recognized councils for innovative learning and leadership programs for girls. Sponsor a fundraising event, a program initiative like Girl Scouts STEM or Girl Scouts ConnectZ, or a learning event for girls. Contact us if you're interested in becoming a River Valleys sponsor.
Program Partnership
As a program partner to Girl Scouts River Valleys, you can give girls the skills and experiences to reach their full potential as leaders in STEM, entrepreneurship, outdoor skills, life skills, and more. Contact us if you are interested in becoming a program partner to help girls develop a strong sense of self and positive values, seek challenges, build healthy relationships, and solve community problems.
Does your company want to host Girl Scout field trip opportunities or a volunteer opportunity you'd like to share with Girl Scout troops? Fill out our Program and Volunteer Opportunity Submission form, and we'll be in touch.
Girl Scouts ConnectZ
Girl Scouts ConnectZ brings a culturally relevant Girl Scout leadership experience to 2,700 girls with diverse backgrounds throughout the Twin Cities metro area and southern Minnesota. All ConnectZ programming is free for girls and their families—through partnerships with more than 100 local schools and organizations, we ensure that all girls can participate in the Girl Scout experience.
Gifts In-Kind
Give a gift of goods or services. Girl Scouts River Valleys accepts gifts in-kind for fundraising events as well as programs for our members. Contact us to let us know what you are interested in donating so we can make sure it's a good fit.
Employee Engagement
Engage your employees in supporting the Girl Scout mission with volunteering or staff giving opportunities. You might also be able to double your gift through your employer. Use our donation matching database to see if your company will match your donation to Girl Scouts River Valleys. Contact us for information.
Meet our Partners and Sponsors
Our partners and sponsors support us in many ways, and we couldn't do it without them! See all of our current partners and sponsors and how they support the Girl Scout mission.
Trust and Accountability
At River Valleys, we are committed to being a good steward of every gift we receive to support our girls. We will make sure that your investment in their future provides a lasting and far-reaching return. Girl Scouts River Valleys meets standard best practices for finance and accountability.