Silver Award Girl Scouts
When Girl Scout Cadettes focus on an issue they care about, learn the facts, and take action to make a difference, they gain the confidence and skills that will catapult them to lifelong success. It all adds up to the Girl Scout Silver Award—the highest honor a Girl Scout Cadette (grades 6-8) can achieve.  Download the Silver Award Workbook (PDF) to find out how.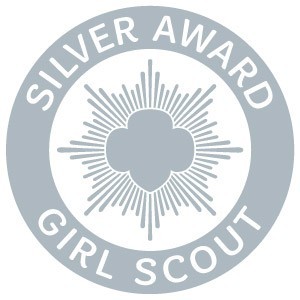 Steps to Earn the Silver Award
Earning the Girl Scout Silver Award involves the time to complete a Journey (step 1), and then a minimum of 50 hours to complete steps 2-10.
Council Approval
As of October 2021, Council approval is no longer needed for Silver Award Proposals. Please utilize the updated Silver Award workbook for Troop Leader or Juliette Mentor approval. If you started your Silver Award proposal with the old process, you don't need to start over, please reach out to girlscouts@girlscoutsrv.org and we'll help you with next steps.

Council approval is still needed for Silver Award final reports.

Girl Scouts who wish to earn their Silver Award must submit their final reports by September 30 of their 9th grade year.
Finding Support
To learn more about the Silver Award, visit Girl Scouts of the USA's website. If you still have questions, ask us anything!